IDEAL PLACES FOR YOUR METROPOLITAN STAYING
Luxury guest house, Conti is the ideal place to spend pleasant metropolitan stays. Just ten minute walk from the center of Milan, is located in a strategic position to reach quickly tourist attractions and exhibition centers. The highly design-oriented character and contemporary style, the structure develops on three levels with a total capacity of four double rooms and two single rooms for ten guests. There is also a common living space with a kitchen accessible at all times of the day; for breakfast, for a snack but also for business appointments. The structure has a garden with a dehor and a smoking area that offer an outdoor relaxing space far from the city.
PHILOSOPHY
Hospitality, conviviality and well-being of the guests are the fulcrum of Conti's philosophy, which is committed, every day, to offer a pleasant stay.
The goal is to make guests feel at home, wrapping them in a serene and charming atmosphre; a "metropolitan" structure with an high level of technology, a safe and welcoming space where "refuge" during the stay in the city. All comfort you need, combined with a modern, sober and elegant space, create a "home" far from the offering of classic Milanese accommodation; the right solution for business or leisure trips..
WHERE
Conti is situated in a residential area of Milan and has a strategic position, ideal for moving around the city. Well connected with all public transports and not within the limited AREA C
BY CAR
Conti is situated 10 minutes far from the expressway exit Forlanini (tangenziale est). I has an agreement with a park very close to the structure: Autorimessa Cesena. P.zza Novelli, 2 20129 Milano.
BY PLANE
From Linate airport the structure is far 5 km, 10 minutes by taxi. Alternatively there are public transportations: bus 73 (Airport – San Babila) 10 stops until P.zza Emilia and than linea 92 (Isonzo – Bovisa FN) to 4 stops until P.zza Ascoli. From Malpensa airport we suggest to take the bus to Milan Central Station or from Terminal 1 the train Malpensa Express to Milan Central Station.
BY TRAIN
From Milan Central Station take tram n. 5 (Ospedale Maggiore – Ortica) for 8 stops until P.zza Aspari. From other train station we suggest to take underground until the stop Porta Venezia MM red. At P.ta Venezia – V.le Tunisia take tram n. 5 (Ospedale Maggiore – Ortica) for 4 stops and get off at P.zza Aspari.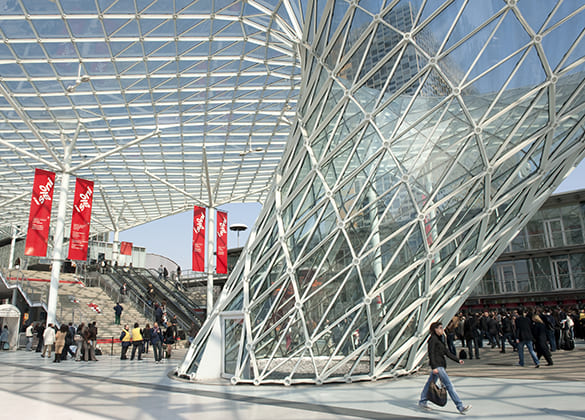 OTHER CONNECTIONS
Conti Guest House is well connected with the Milan exhibitions.
For Rho Exhibition we suggest to take tram n. 5 (Ortica – Ospedale Maggiore) for 3 stops and get off at P.ta Venezia – V.le Tunisia. Take underground MM red to Rho Exhibition for 19 stops. You can also take at Porta Venezia passante ferroviario S5 for 8 stops to Varese.
For Fieramilanocity take at P.zza Ascoli tram n. 5 (Ortica – Ospedale Maggiore) for 3 stops, get off at P.ta Venezia – V.le Tunisia and take MM red (Sesto FS – Rho Fiera) until Amendola.
For Centro Direzionale Porta Nuova take in P.za Ascoli tram n. 33 (Rimembranze di Lambrate – Lagosta) for 8 stops and get off in P.le Principessa Clotilde (Osp. Fatebenefratelli).
The structure is connected with the city center with tram n. 5 and bus n. 62.